My Dad's Free Brake Inspection*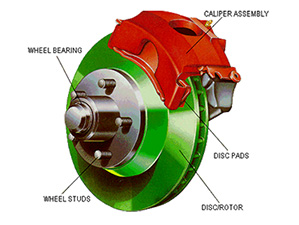 We recommended our free brake inspection every 10,000 to 15,000 miles; or if any problem occurs, such as unusual noise, vibration or loss of stopping power.
We will inspect:
Brake Pads & Brake Shoes
Brake Drums & Brake Rotors
Hydraulic Components
Brake Fluid
After inspection, each customer is given the chance to see for themselves the condition of their brakes while our trained technicians explain your exact repair options. If work is suggested, a free written estimate showing repair options is given to the customer.

*Extra large trucks & vehicles with brake work done elsewhere in the last 90 days require a brake evaluation fee.
My Dad's Brake Service Long Beach, CA
Here at My Dad's (formerly Midas), we've been doing quality brake work for over 25 years. We still honor the Midas lifetime warranty on brake pads and brake shoes. We now issue a lifetime warranty* on brake pads & brake shoes, good at any My Dad's location.
*Lifetime warranty covers cost of brake pads and/or brake shoes (not labor) for as long as you own your car. See warranty page for specific details.
Our fast, reliable, warranted work will have you back on the road, driving with confidence.